Mystery Readers Book Club
Please join other lovers of mystery books at the Babcock Library for a friendly, lively discussion.
The third of what is planned to be many meeting of the Book Club will discuss the following book:
The Man Who Died Twice (Thursday Night Murder Club #2)
Author: Richard Osman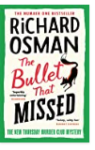 It is an ordinary Thursday, and things should finally be returning to normal. Except trouble is never far away where the Thursday Murder Club are concerned. A decade-old cold case–their favorite kind–leads them to a local news legend and a murder with no body and no answers. Then a new foe pays Elizabeth a visit. Her mission? Kill or be killed. Suddenly the cold case has become red hot. While Elizabeth wrestles with her conscience (and a gun), Joyce, Ron, and Ibrahim chase down the clues with help from old friends and new. But can the gang solve the mystery and save Elizabeth before the murderer strikes again?
This book is available in a variety of formats including large print and playaway.
The Bullet That Missed is the third in a series of now three books! A fourth book is expected to be released in August!